Become a Top Leader in Engineering Management
Are you a dedicated engineering professional ready to implement new ideas and become a leader in your field?
Vanderbilt University's online master of engineering (M.Eng.) in engineering management, delivered online through the School of Engineering, prepares you to rise to leadership positions where you can drive impactful technological solutions and influence the engineers on your team to do the same.
The M.Eng. degree in engineering management allows you to develop applicable management skills for leading diverse, engineering-focused teams. In the program, you will learn directly from Vanderbilt faculty who are active practitioners in their fields.
Complete in as few as 12 months


Network with diverse classmates across the country
Learn online in HD in live, weekly classes
GRE/GMAT scores not required


Why Earn a Master's in Engineering Management Online from Vanderbilt?
As one of the top 13 universities in the United States and renowned for research internationally, Vanderbilt is a place where you can connect with the world's foremost leaders in engineering and technology.1 Vanderbilt has been recognized by Reuters2 as a top-20 Most Innovative University worldwide for its students' and faculty's ability to "advance science, invent new technologies and power new markets and industries."
As a student at Vanderbilt, you'll immerse yourself in one of the best online engineering management programs in the nation, gaining insight into emerging engineering leadership practices through exposure to the school's active research community and direct interaction with faculty who are driving discoveries in the field.
Vanderbilt Is One of the Top 20 Most Innovative Universities in the World, According to Reuters' 2019 Rankings.3
Discover the Value of Vanderbilt
Read articles on the blog, The Engineering VU.
With fast-paced development in technical fields, engineers' roles are constantly being redefined. By earning a master's in engineering management, you can develop the multidisciplinary skills — communication, organizational planning, project management, leadership and more — needed to adapt and advance in the changing industry environment.
The median engineering manager
salary is $137,720 per year,
according to the Bureau of Labor Statistics.4
You may graduate from the master's in engineering management program prepared to lead teams of technical professionals in various engineering fields, including mechanical, civil, chemical, electrical or industrial engineering.
A career path for engineering managers may include various engineering consulting positions, but you could also find hands-on jobs managing operations in laboratories, production plants, or construction sites.
Master's in Engineering Management vs. MBA
How an M.Eng. Degree Prepares You for Leadership in Engineering
Either a master of engineering (M.Eng.) in engineering management or a Master of Business Administration (MBA) can help engineers advance in their organization or industry. However, a master's degree in engineering management prepares engineers for leadership skills within the context of their field, while an MBA prepares them for more general roles in the business world. Though the M.Eng. degree is a slightly newer degree than the MBA, both are established degree programs that are highly regarded.
Both an MBA and an M.Eng. in engineering management prepare students with advanced knowledge in the following subject areas:
Management and leadership
Communications
Finance and accounting
Economics

Marketing
Supply change management
Decision-making
However, despite their similarities, the two degrees have important differences in student backgrounds, program curriculum and degree outcomes.
1. M.Eng. in Engineering Management
Students
For those with a background in STEM who want to transition into a leadership role, a master's in engineering management is the best degree for engineers. Because the degree caters to professionals in technical fields, students in an M.Eng. in engineering management program will collaborate with peers and professors who have similar experiences and goals.
These commonalities will enable students to build connections with other leaders in their industry. Students in the program may come from different engineering fields, but they will all have a STEM background.
Curriculum
More so than the master of science in engineering management, the focus of a master of engineering in engineering management curriculum is on the application of management principles to the engineering and technology industries. While topics covered usually overlap with those of an MBA program, they are presented within the context of engineering-specific responsibilities.
An M.Eng. in engineering management program, for example, examines how finances, staffing, and technical requirements contribute to the efficiency of an engineering or tech organization, and how these factors impact the final product. In Vanderbilt's online master of engineering in engineering management program, students take courses that cover:
Engineering design process and project management
How to make software-assisted decisions
Intellectual property law as it applies to engineers and scientists
Marketing for technology products
Because engineering is a technical field that requires creative problem-solving and a desire to build and test new ideas, any engineering management curriculum should include hands-on projects. At Vanderbilt, students in the online M.Eng. in engineering management program apply what they learn to improve complex business systems and develop a final capstone project that they will present.
Outcomes
M.Eng. in engineering management graduates will be prepared to take on leadership roles within engineering, technology, and scientific organizations and companies. They will be able to present themselves as multi-talented professionals who can bridge technical engineering knowledge with organizational and people management skills. Graduates may also go on to lead organizations outside of the tech industry, if these organizations are influenced by technology or engineering.
An M.Eng. in engineering management typically takes approximately two years to complete. Vanderbilt's online M.Eng. in engineering management program takes as few as 12-15 months to complete. Upon graduation, both the M.Eng. in engineering management and MBA will be recognized as advanced professional degrees by employers.
2. MBA
Students
An MBA is designed for those interested in leadership roles in a variety of fields or industries. However, MBA students often pursue more traditional business professions, such as finance or marketing. Few MBA students aim to enter the engineering field.
Curriculum
Most MBA programs cover a breadth of skills needed to lead in a range of business environments, but rarely hone in on specific industries. Curricular topics may include supply chain management, accounting, organizational behavior, project management, economics and statistics.
Outcomes
MBA students will graduate with the skills to improve performance and return on investment for companies and organizations. A full-time MBA typically takes two years to complete.
Take the Next Step Toward Earning Your Master's in Engineering Management
Learn More About Vanderbilt's M.Eng.
Online
in Engineering Management
The master of engineering in engineering management program consists of 30 credits and can be completed in as few as 12 months. The program offers a challenging and engaging curriculum designed for experienced professionals who want to develop business and entrepreneurial skills for advancement in their industries. Topics covered in the program include:
Technology development and innovation
Strategy and forecasting
Staffing and operational management


Product development
Experience design
Leadership in engineering and technology
Classes in the immersive online program explore management principles through an engineering and tech-focused lens. Course subjects range from fundamental management competencies to industry-specific issues.
As a student in the program, you will take courses such as:
Strategic Technology Management
Applied Leadership in Engineering Management
Technology Forecasting
Operations and Supply Chain Strategy
Marketing of Technology Products
Program and Project Management
IP for Engineers and Scientists
Technology Forecasting
Finance and Accounting
Master of Engineering Capstone Project
Master's in Engineering Management Courses
The master of engineering in engineering management online program consists of 30 credits that can be completed over the course of three to six terms. Learn more about the courses you will take as a student in the descriptions below.
Sample Course Sequences
The Accelerated Track can be completed in as little as 12 months over three terms. The Standard Track can be completed in as few as 20 months over five terms.
When choosing the Standard or Accelerated Track, you should also assess whether your course load will be considered full-time or part-time for financial aid purposes. More information can be found on the Financial Aid FAQs.
1. Standard Track
Term 1 (6 units)
Term 2 (6 units)
Term 3 (6 units)
Term 4 (5 units)
Term 5 (5 units)
Term 6 (2 units)
2. Accelerated Track
Term 1 (11 Units)
Term 2 (11 Units)
Term 3 (8 Units)
3. Course Descriptions
ENGM 6200: Technology Forecasting (3 Units)
This course covers methods of forecasting technological advancements and assessing their potential intended and unintended consequences. The course will cover the Delphi method, trend extrapolation, environmental monitoring and scenario development.
ENGM 6100: Strategic Technology Management (3 Units)
This course will prepare students with the skills to assess new opportunities in a business developing technology products, which opportunities to pursue and which to dismiss. The course will cover the stage gate model as a tool for technology and opportunity assessment and the formulation of plans for new product introduction. It will also cover product lifecycle management, intellectual property management and economic analysis.
ENGM 6600: Program and Project Management Strategies (3 Units)
This course will discuss the management of small- to medium-sized projects ($10k to $10M), with some introduction to the management of very large and complex projects. Concepts that will be introduced include the engineering design process, design tools, software-assisted decision-making and professional management skills.
ENGM 6400: Operations & Supply Chain Strategy (3 Units)
This course explores manufacturing and service processes for transforming resources into technology-based products. It will cover strategies and processes for moving information and materials through the supply chain, strategies to support overall firm objectives, product development programs and capacity utilization requirements. The course will also explore manufacturing for flow design and facility layout, service processes, service blueprinting and waiting line analysis for structuring the service encounter; six sigma quality and statistical process control; lean supply chains, logistics, distribution and global sourcing; and enterprise resource planning, inventory management and materials requirement planning.
ENGM 6700: Intellectual Property for Engineers and Scientists (3 Units)
This course offers an assessment of intellectual property law for a technical, non-legal audience. It will cover different forms of IP protection (e.g., trademark, copyright, patents), with a primary focus on patents. The course will discuss the use of intellectual property on business strategy and how those concepts affect business and technology development decisions. Additionally, the course will discuss open source and its impact, as well as practical legal considerations and broader policy questions.
ENGM 6800: Finance & Accounting (3 Units)
This course will cover capital budgeting, time value of money, cost of capital and financial statement presentations, and capital formation for technology based firms. Students will learn about sample debt and equity financings, leases and hybrid forms of capital. The course will explore financial accounting and reporting, financial metrics, sources of financial information, financial statement analysis, taxation of business income, financial modeling, asset-based line of credit and working capital management.
ENGM 6500: Applied Leadership in Engineering Management (3 Units)
Students will learn to apply core principles of leadership and program management as engineering professionals. The course will cover strategic planning, people management, staffing, compensation, business process improvement theory, business interruption, leadership styles, emotional intelligence, negotiation and ethical business practices.
ENGM 7897, 7898 & 7899: Master of Engineering Project (6 Units)
Students in this course will apply engineering management concepts to analyze, design or redesign, and improve complex business systems. Through this course, they will learn process mapping, stakeholder analysis, business process performance metric development, solution development (including use case and requirement analysis), concluding with a change management plan and showcase presentation.
ENGM 6300: Marketing of Technology Products (3 Units)
This course covers key aspects of marketing strategy formulation and implementation including customer needs assessment, targeting and positioning strategies in a competitive market. It will discuss the marketing of goods and services to businesses, management of the field sales force, distribution channel development and maintenance, development of new industrial products, and pricing and promotion decisions. The course will also cover aspects of marketing technology products on a global scale.
Decide to pursue the online M.Eng. in engineering management program curriculum today.
Master of Engineering in Engineering Management Admissions
Admission to the master of engineering in engineering management online program is highly selective. An undergraduate degree in engineering (or STEM) is required, and you must have at least two years of relevant professional experience to apply.
Academic Year: 2024
| | | | |
| --- | --- | --- | --- |
| Admissions Deadlines | Spring 2024 | Summer 2024 | Fall 2024 |
| Final Submit Deadline | 11/10/2023 | 3/8/2024 | 6/28/2024 |
| Final Complete Deadline | 11/17/2023 | 3/15/2024 | 7/5/2024 |
| Faculty Review Deadline | 11/24/2023 | 3/22/2024 | 7/12/2024 |
| Final Decision Deadline/Deposit Deadline | 12/8/2023 | 4/5/2024 | 7/26/2024 |
| Registration Opens in YES | 10/30/2023 | 3/25/2024 | TBD |
| First day of class | 1/8/2024 | 5/6/2024 | TBD |
GRE test scores are not required to apply to the M.Eng. program. View the Admissions page to learn more.
Online M.Eng. Program Features
As a student, you will meet face to face with Vanderbilt's expert faculty and your classmates in weekly online classes delivered via HD-streaming video. You will also have access to dynamic sharing and collaboration features in the online classroom. Tools and functionality include:
Small-group break-out rooms
Video and document sharing
Live chat, surveys and polls

Program and Project Management

Document annotation
Screen-sharing capabilities
Full class recordings
Through these features, you will be able to apply what you learn from your course work to interactive projects that will give you hands-on experience conducting engineering management practices. You will also be able to access course work and the online platform's suite of features from your desktop, tablet or mobile device.
Just like students in our on-campus programs, you will have access to on-campus events and resources. For example, you will have access to our virtual library and be able to gain assistance from our career services team. Learn about more program features and benefits on the Why Vanderbilt page.
Immersive Experiences
Given its collaborative and hands-on nature, Vanderbilt's M.Eng. program supports your access to an engaging learning experience online and on the ground. As a student in the program, you will have access to on-campus events and resources, participate in hands-on projects, and access co-working spaces.
Capstone
As a student, you will gain hands-on experience by completing a capstone project. The capstone sequence will allow you to leverage the project management knowledge you have built in the program and develop your techniques by designing and executing a real-world project in you engineering field. Throughout the capstone, you will receive mentorship from Vanderbilt faculty.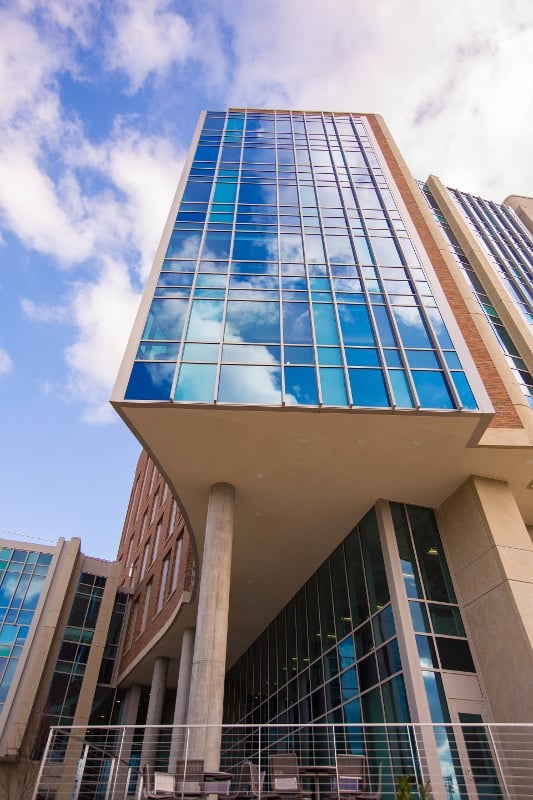 The Campus Convening
The on-campus convening is a three-day weekend event each Fall that brings online students and program faculty together at Vanderbilt University in Nashville, Tennessee. This experience will serve as an introduction to Vanderbilt University student life and create opportunities for students to immerse themselves into Vanderbilt's historic campus and everything it has to offer. Newly admitted cohorts will have the opportunity to meet classmates, hear from industry experts and interact with faculty on a personal level.
Learn to Lead with the Wond'ry
The Wond'ry is a site dedicated to fostering cross-disciplinary innovation and implementing creative problem-solving for the real world. Located on campus next to the Engineering and Science Building, the space houses studios, workshops and labs where students and faculty from all schools, levels and disciplines connect to create solutions to real-world problems. As a student, you will learn about and have opportunities to participate in projects happening at the Wond'ry, where over 150 companies have launched since the center's opening in 2016.
A School for Entrepreneurial Doers
Students, faculty and researchers at the School of Engineering aren't only entrepreneurial thinkers — they're entrepreneurial doers who transform their ideas into realities. A hard-working, energetic and collaborative spirit fuels the community and presents opportunities for you to gain hands-on experience before you graduate.